The Shure SM7B is often pitted against high-end condenser microphones like the Neumann TLM 103. For the unfamiliar, that'll run you $1000. That's a pretty bold statement for the SM7B, which sits pretty at just a small fraction of the cost.
SM7B is a deservedly popular tool utilized by not only beatboxers, but by radio hosts, recording studios, and professional audio technicians due to its phenomenal audio quality.
There's a reason why Michael Jackson utilized the SM7B to record his biggest hit, Thriller. For podcast fans, Joe Rogan uses the SM7B in his recording studio as well. Professionals and superstars all agree - this is a fantastic microphone.
Editor's Note: This article has our special links to Amazon (aka affiliate links)! If you buy anything these with links, a (small) portion of the price will go to HBB at no cost to you. If you'd like to support us, please consider making a purchase this way!
The Design
The SM7B is iconic in its design, championing a timeless all-metal construction. The body of the microphone feels extremely sturdy, with the perfect amount of weight to it. In the middle of the microphone, you'll see the famous hinged mount that's welded onto the mic, so that you can either hold it like a handle or mount it directly to your recording device.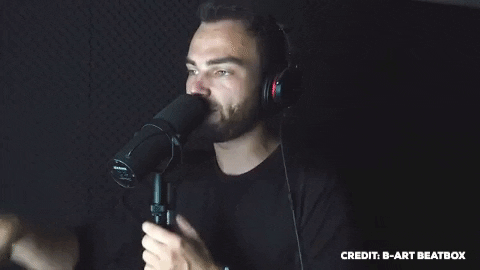 On the back of the microphone, you'll see a switch that changes your settings between a low-cut filter to a mid-boost filter, which makes this an even more versatile piece of equipment.
How the SM7B sounds
The SM7B is hands-down our favorite piece of beatboxing equipment within this price range. With a capable preamp, this microphone can take your sound quality to the next level.
The SM7B commands respect with it clean overall sound with impressively wide-ranged frequency response.
This microphone is also ideal for beatboxers, because the internal air suspension system absorbs pop noises and cuts out unnecessary background noises incredibly well. You won't be needing to buy pop filters or additional shock mounts with this microphone for sure.
This is a cardioid pattern microphone, which means it gives off a significant proximity effect. Low frequencies from far away or too far-off to the side will not be picked up, so it's best if you beatbox directly into the mic, which shouldn't be a problem at all.
What are the specifications?
Here's how the mic looks under the hood:
Price: $399 MSRP
Color: Dark Gray
Frequency Response: 50Hz - 20000kHz
Polar Pattern: Cardioid
Impedance: 150 ohms
Sensitivity: 60 Hz: 11 dB / 500 Hz: 24 dB / 1 kHz: 33 dB
Weight: 765.4 grams / 1 pound / 11 ounces
Microphone Connector: Three-pin professional audio (XLR)
Product Dimensions:
Length: 189.7 mm (7.47 in.)
Height: 148 mm (5.81 in.)
Width: 96 mm (3.78 in.)
The Verdict
We absolutely adore this microphone. We can safely say you won't be able to find a microphone with this build quality and popularity for the price point. The versatility and incredible build quality could transform your performances both on stage and on video instantly.